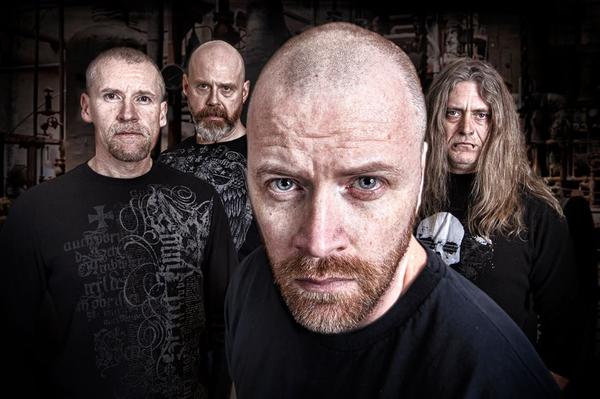 Eyes of the Living, fronted by Middletown resident Tim Swisher, will play a competition at the Viper Room in West Hollywood next Saturday for the right to perform at the prestigious Wacken Open Air Festival in Germany this summer.
The last time we visited a Middletown resident in this space, Catie Turner was attempting to become the next "American Idol."
Tim Swisher's quest has not been nearly as well-publicized. But he, too, is an unsigned musician hoping to be voted the best in the country at what he does.
And while a victory won't bring the type of national headlines Turner would have received (or any headlines, really, beyond certain niche music circles), the prize would provide Swisher and his band mates with a monumental opportunity that would have seemed unfathomable a little over a year ago.
Swisher, a Middletown resident for about the last five years, and his Philadelphia-based thrash metal band Eyes of the Living are one of three groups competing next Saturday in the U.S. finals of the Wacken Open Air Metal Battle at the famous Viper Room in West Hollywood, California. At stake is a spot in an international competition against bands from 29 other countries during this summer's Wacken Open Air Festival in Germany Aug. 2-4.
Participating in the world's largest outdoor metal festival, which this year features an opening-night performance from Judas Priest, would be the ultimate thrill, of course. But for a band that didn't exist at the start of 2017, it's already been a wild and unforgettable ride.
"I think we were all dumbfounded a little bit," singer/guitarist Swisher said of besting nine other bands to win the East Coast portion of the contest last month at 2300 Arena in South Philly. "I know I must have said, 'Wow, I can't believe we just won and we're going to the Viper Room in LA' at least 100 times. The Viper Room is a historic place, and getting to go out there and play is pretty awesome.
"We're representing the East Coast, and if we win in California, we'll be representing the U.S. It would be a remarkable achievement for sure, hands-down amazing."
Swisher was speaking this week by phone along with bassist Chris Moore, of Drexel Hill, his friend since middle school at Philly's Stetson Junior High. The pair started making music together about a year after meeting (they initially bonded over art), and went on to play in the '90s metal band Abolish, which once opened for Iron Maiden at the Electric Factory.
In the years since Abolish broke up, Swisher wrote music for various publishing companies, landing his work on multiple TV shows. When he decided to go back to writing heavier material, he shared it with his old friend Moore, who agreed they should record the new songs. They brought in guitarist Mike Straiton, of Media, formerly of the band Pummel, for the solos, and produced a debut album, "War on Dead." When they decided to perform the new music live, they recruited Straiton's former band mate Cliff Fritts, of Allentown, on drums.
All of this has happened since last February, with their first show not coming until last May 5. Seemingly out of nowhere, a new band of 40-somethings was making noise on the Philly metal scene.
"Tim came to me and suggested, 'Let's write a CD, dude,' and as we started writing, and Mike got involved doing leads, I said, 'Tim, this sounds really good, man, why don't we look into playing this out?' " Moore said. "Obviously, it's late in the game, but you never know what can happen.
"We just want to share it because we think it's that good, and when we do play it live, we get a really good crowd response. People really dig what we're doing, they say we've got that old-school thrash sound. We're just playing what we love, what we wrote."
Eyes of the Living's music is loud, heavy, fast and aggressive — about as far from the "American Idol" crowd as you can get. It's certainly not for everybody. But it's resonated with local metal fans.
Their competition at the Viper Room is Voices of Ruin from California and Withering Earth from Florida. Both list their genre as melodic death metal.
"Withering Earth, they're theatrical, they do a kind of viking metal, dressed up as vikings a little bit with this really aggressive sound they've got going," Swisher said. "We don't do props — we've got these really nice banners representing the band, but we dress up in basic black T-shirts, black jeans. These guys are wearing wolf skins, wolf heads, warpaint. It's gonna be a pretty interesting night.
"Our style, like Chris mentioned, has an old-school flavor to it and stands out, in my opinion, compared to the other two bands, who sound a little bit similar stylistically. Maybe that gives us a little bit of an edge."
If Eyes of the Living does win Saturday night, it will mark the second consecutive year a band from Philly represented the United States in Germany, following Corpse Hoarder in 2017.
Eyes of the Living, whose local gigs over the past year have included a pair of shows at McStew's Irish Pub in Bristol Township, won't have the luxury of a built-in hometown fan base in Hollywood, as it did in Philly last month. But Swisher and Moore are confident they can get the crowd behind them, which could be a factor in the judging.
"They told us it was in our best interest to try to win the crowd over, so we will try to do that, for sure," Swisher said. "Really, just trying to interact with them to get them to feel like they know us and are engaged with what we're doing. I hope nothing crazy flies out of my mouth, but it probably will. Hopefully, the music speaks for us."
Moore said he was encouraged by crowd reactions during recent shows in Connecticut and New York, but he's trying to stay level-headed over the prospects of playing in Germany.
"I'm the kind of person, I try not to get my hopes up too far," he said. "That Iron Maiden show (in 1995), we were on the bill, off the bill, on the bill, off the bill. So I try not to get my hopes up too much and get excited, but I do think about how amazing it would be, to be over in Germany playing one of the biggest metal festivals. I don't even know how to describe it, it would just be simply amazing."
Win or lose on Saturday, Swisher, Moore and the band have already achieved more in the last year than would have seemed possible when they began the project.
"I'm just so proud and happy about our music and what we're doing," Moore said. "This was something we created, an idea Tim had in his head, and we ran with it, wrote it, got it together. We did everything on our own, and it feels good to be somewhat recognized for it."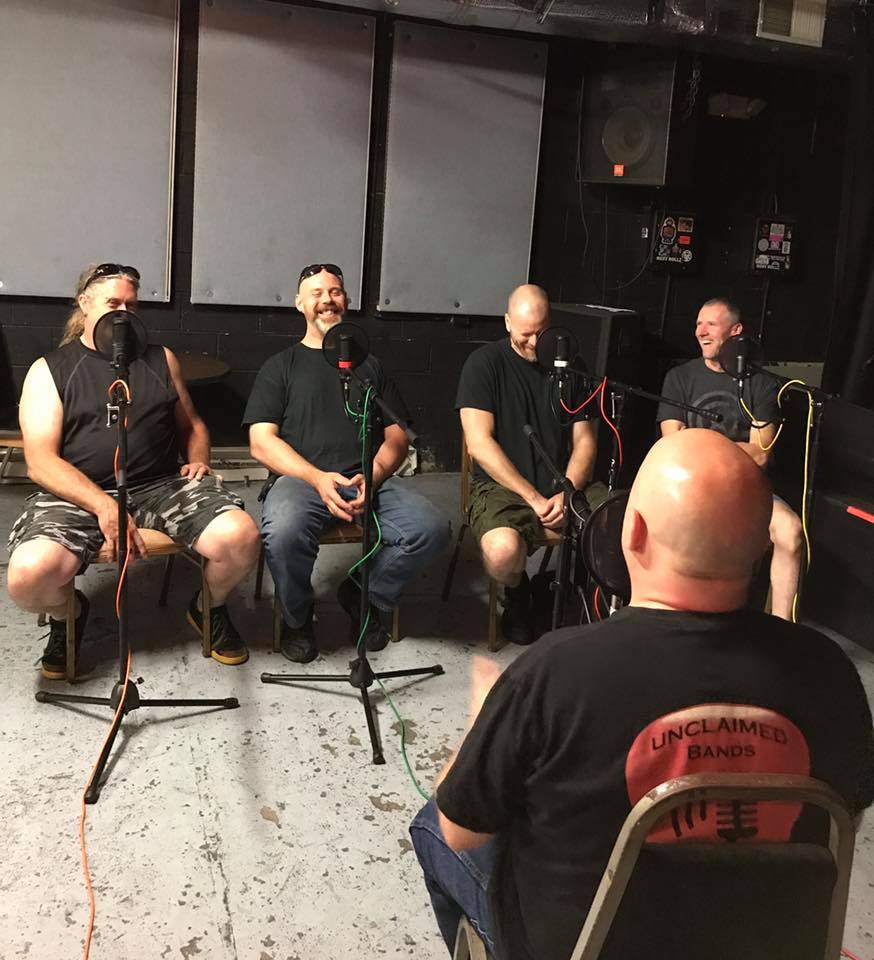 Unclaimed Bands Interview  #0235 (Audio Podcast)
Episode Description
This Show: Sean Gallagher sits down with the Metal Band EYES OF THE LIVING. From the ashes of two former Philadelphia bands of the past comes Eyes of the Living. Heavier, harder, and aggressive is a good description for this band that blend equal parts thrash, and death metal! In this interview they tell us about their new record, "WAR ON DEAD"! We discuss a little of the past and the more on the future of this band and their take on the changing music scene through the eyes of these four veteran musicians! included in the interview are their songs "Pull the Trigger" and "Chemical Bath."    https://www.podomatic.com/podcasts/unclaimedbands/episodes/2017-09-05T16_01_56-07_00