Biography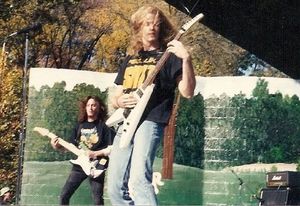 To get to know who EYES OF THE LIVING are today, you must go back in time to look at their origin, long before the members of Eyes of the Living wrote music for National Television Shows, or shared the stage with great bands like Iron Maiden, or before they had music played on Howard Stern.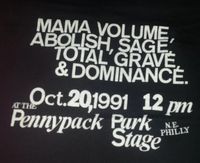 It started in the early 90's on the rough and tumble streets of Kensington, a blue collar neighborhood in the city of Philadelphia, when a group of very young aspiring metal head friends; Tim Swisher Vocals and Guitar, Chris Moore Bass, Brian Batson Lead Guitar, and Chris Meussner Drums, formed a band named Abolish. Early on, they released a couple of tapes: "Equal Life = Death" and "Endangered Existence." They played their brand of thrash metal at house parties and any dive in and around Philly. They also played a show on the outside stage at Pennypack Park and inside the famous T.L.A. on South Street.
There was a lineup change in 1994, when Drummer Chris Meussner parted with the band. B. Brian Rush quickly took his spot in the lineup and the band didn't miss a beat. The band practiced a few times a week in a rented shipping container next to Holmesburg Prison, in North East Philly. The container was cramped and exposed to the elements, but with a beat up old couch and a few nude girl pictures plastered on the walls for inspiration, the boys made it their home.
Playing out live was their passion. The band cut their teeth and sharpened their musicianship playing in every local hole that would allow them to play in and around Philadelphia. Some of the smaller shows locally were at Gwilkers, the Cell Block, John's Bar & Grill and Dreams (the former strip club, NOT the current Gentleman's Club). Dreams became the band member's official hangout.
Over the years the band played with many of the Philadelphia area top Original Hard Rock and Metal bands. Some of the many local artists were: Mama Volume, Dominance, Orcus, Deadbolt (later becoming givethemrope), Cipher, Carfax Abbey, Blacken, Sludge, Vicious Circle and others. Another one of the area bands which they played along with was another Philly based band named Pummel. This is where they met Guitarist Mike Straiton and drummer Cliff Fritts, when both bands struck up a mutual friendship and on occasions would jam together.
Pummel with guitarist Mike Straiton and Drummer Cliff Fritts, were making a name for themselves as well. Their style of metal was unique and original. Building a fan base, they opened for OBITUARY, PRO-PAIN and also played after FEAR FACTORY at the Trocadero.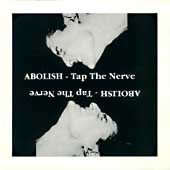 In 1995, Abolish released their own full length indie CD titled "Tap the Nerve." Music from the CD "Tap the Nerve"   would be spun on both College Radio and Commercial Radio Stations in Philadelphia, South New Jersey, and Delaware. Among other stations, Tap the Nerve was getting airplay on: 91.3 WVUD's "Ruffage" hosted by The Tink, 94 WYSP's "Loud & Local" founded by Mel Toxic and later with Couzin Ed, Tommy Conwell, and Spike Eskin, 93.3 WMMR's "For Rockers Only" hosted by Ray Koob and featuring Metal Mike. The guys were specially honored to have the music being played during morning drive time as bumper music on the nationally syndicated radio program "The Howard Stern Show."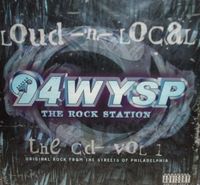 As buzz from the band grew, they secured a distribution deal with Universal Music and the CD was placed in stores along the East Coast like Tower Records, Wall to Wall Sound, and others. Another CD, pressed at the original Disc Makers for 94 WYSP, was titled: "Loud -n- Local Volume I." The CD contained some of the best in local area talent in and around Philadelphia. Tim Swisher, Chris Moore, and Mike Straiton's work can be heard on WYSP's promotional CD.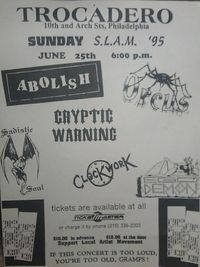 Playing out live was always their love and their passion. Beside playing a ton of shows in the Philly Area and colleges like Delaware University, Newark, DE, the boys expanded their base and their geographical footprint. The band played several shows in New York City at venues like the Lion's Den. They also traveled as far North as Boston to play the Rat Cellar with Stickmen and as far South as Nashville to play with The Beast, Disarray, and Piranah. Also played other shows with Piranah in Clarksville, TN and Huntsville, AL.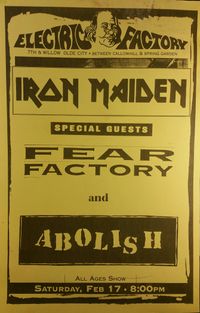 Now they Graduated to bigger venues and larger audiences playing the 800 seat T.L.A. a few more times and the 1,200 Trocadero for Dave Simons. They played many shows at the "Troc" opening up for MORBID ANGEL, CROWBAR, NUCLEAR ASSAULT, OVERKILL and even co-headlining a couple of concerts. The boys even had a chance of a lifetime playing the 3,000 seat Electric Factory for Adam Spivak on behalf of Larry Magid of Electric Factory Concerts (later becoming Live Nation) on February 17, 1997, opening up for FEAR FACTORY and the legionary metal kings IRON MAIDEN.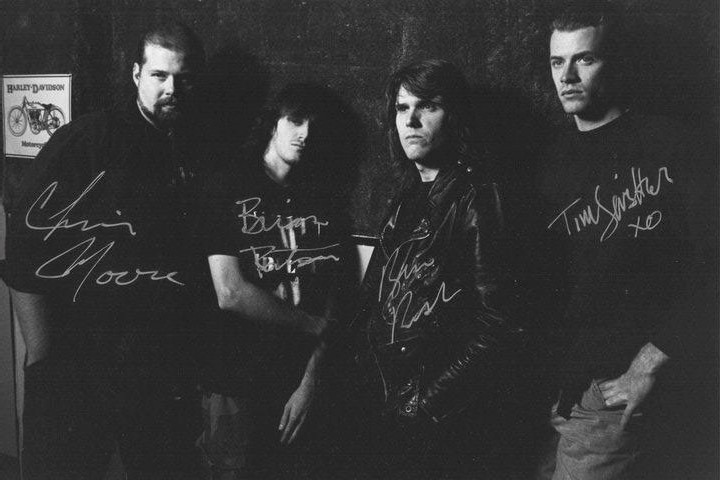 Radio airplay on both of the local rock stations in the 8th largest market in the U.S., playing shows all over the East coast, and even opening for a few headliners including Iron Maiden. Not bad for a couple of blue collar kids without established management or financial support beyond their minimum wage day jobs.
By 1998, the guys in Abolish went their separate ways. Tim Swisher went onto writing music for several successful Television and Cable shows including: The Day I Almost Died, My Haunted House, CW's The Messengers, Let's Make a Deal, Here Comes Honey Boo Boo, E! Entertainment, True Hollywood Stories and That Metal Show, to name a few.
Like most people growing up, family obligations moved Tim Swisher & Chris Moore's lives into different directions but they continued to get together to "jam." Both being horror and sci-fi art fans, they talked about creating a horror comic book, with the story line about a man's battle with himself when he becomes infected during the zombie apocalypse. They thought about creating a sound track to go with it. After writing most of the music score, they brought in their old friend Mike Straiton to play most of the solos. Drummer Cliff Fritts would jump on board later.
As the music took shape, they would play some of the unfinished songs to friends. After many requested for copies and to hear more tunes, the band EYES OF THE LIVING was born. They decided to release an entire album worth of music titled: "War on Dead." Eyes of the Living's Debut Album "War on Dead" is a concept album based on the zombie storyline. Released February 24, 2017.
With the New Music being released, the passion for touring and performing live is itching inside Tim, Chris, Mike, and Cliff. In fact, their hunger to play live in front of a large audience now is stronger than ever. Now, the members of Eyes of the Living goals are set high; to dominate the growing audience of anti-mainstream music listeners and surpass far beyond their previous success. Will you join them? Go to EyesOfTheLiving.com to hear the NEW Music from "War on Dead".